Online Banking
CASH MANAGEMENT
Remote Deposit Capture
First Westroads Bank's RemoteConnect service allows you to make bank deposits** directly from your office.
Using RemoteConnect, you can scan and submit check deposits** securely over the internet to First Westroads Bank. We receive your deposit electronically and process the checks just as if you stopped by the bank. The results will be faster deposits, more efficient collections, and tremendous convenience for you and your business.
Key Advantages of RemoteConnect
Extended Deposit Deadlines: Take up until 6:00 pm to make your deposits for same-day credit.

Time Savings:With RemoteConnect you will not have to drive to the bank and you will spend less time making your daily deposit.

Consolidate Deposits: Local, Regional, or Nationwide. Deposit your checks** from anywhere.
RemoteConnect Features Include:
Check scanner available from First Westroads Bank.

FREE Training Provided by First Westroads Bank, Customized to your business.

CAR (Courtesy Amount Recognition) reads the amounts written on the checks and encodes them for processing-minimal keying of amounts on your end.

24/7 - Deposits can be made 24 hours a day, 7 days a week at your convenience.*

Image Storage - Checks are imaged front and back for easy access at a later time.

Security - Secure, encrypted image file transmission.
* Deposits made after 6:00 pm will be credited to your account on the following business day.
** Excludes checks drawn on financial institutions located outside of the United States, third party checks, remotely created checks, and substitute checks.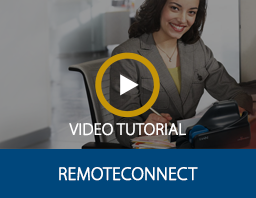 Merchant Processing
Customized credit card processing with lower fees & a high level of service!
First Westroads Bank has partnered with First Data to provide credit card processing and electronic payment services to our customers. Backed by our dedication to providing quality customer service, we're setting new standards of excellence in the payment processing industry. Through First Westroads Bank, you'll experience a number of services directed toward savings, convenience, and improved cash management.
Lower Fees. Our customers benefit from some of the best pricing in the industry - without the hassle of hidden fees and long-term contracts. Additionally, our Payment Processing Review will provide you with information on how you can lower your credit card processing fees.
Personalized Service. First Westroads Bank consistently aims to improve the service standards by which we hold ourselves accountable. As a customer, you can depend on us for nothing less than attentive and responsive assistance.
Quick and Easy. The simple application, fast, flexible approvals, and quick installations make it quick and easy to take advantage of our payment processing.
Through First Westroads Bank's partnership with First Data, any businesses can seamlessly accept:
All major credit cards including MasterCard, Visa, American Express and Discover;
Debit cards with either signature or PIN based approval processes;
Electronic Benefits Transfer (EBT) for direct payment cards issued by federal or state governments;
Purchasing cards for corporate or government organizations
Gift cards (which removes the hassle and inconvenience of paper gift certificates)
Positive Pay
Positive Pay can help reduce fraud by identifying unauthorized check transactions before final payment is made.
Positive Pay is a comprehensive solution for managing daily check transactions and clearings. A daily customer file import compares information with files of transactions posted to the customers' accounts. Exceptions such as duplicate transactions, amount discrepancies and check number mismatches are identified automatically. Positive Pay offers a versatile solution for preventing fraudulent activity.
The system does not prevent transactions from taking place, but simply provides information to the bank. Decisions on exception items are made by the customer through the user interface within BusinessConnect Internet Banking.
Positive Pay Features Include:
Real-time integration: The solution is streamlined between customer accounts and the bank's clearings.

Automated exception handling: Each transaction submitted through Positive Pay is sent for authorization. Exceptions are handled directly through BusinessConnect Internet Banking and First Westroads Bank's Operations Department.

Upfront fraud prevention: Authorized customer's employees are empowered to resolve exception items, mitigating potential fraud losses.

Easy file import: Streamlined customer process of importing Positive Pay files containing issued, void or stop-pay transactions via BusinessConnect Internet Banking.
Automated Clearing House (ACH)
First Westroads Bank makes electronic payments and deposits easy for you to conduct and manage.
ACH Manager allows you to create electronic payments and deposits with approval and an ACH Origination Agreement. As part of your online Cash Management, you can originate ACH transactions when and where you want, safely and quickly. It's the cost-effective way to handle routine transactions.
ACH is used for a wide variety of payments and deposits:
And, they are completely safe and secure!
Wire Transfer
Sending payments on tight deadlines becomes fast and easy.
Transfer Funds to accounts at other financial institutions
Full confirmation of sending and delivery of funds
Lockbox
First Westroads Bank Lockbox service takes the burden of receiving and processing payments off you and allows you to focus on other pieces of your business.
Lockbox Key Benefits Include:
Elimination of daily trips to the bank and possibly the post office
Increase security by decreasing the opportunity for fraud
All original documents are returned to you
Best of all, with same-day processing your money goes to work for you sooner!
Mobile Courier Pick-up Service
First Westroads Bank's MobileConnect provides convenient pick-up service at your office.
Key Advantages of MobileConnect
Convenience - no more time wasted driving to and from the bank!
Pick-ups scheduled daily, weekly, or monthly
Couriers pick up check deposits, loan documents and new account applications
Couriers also deliver deposit receipts and other bank documents
Free locking courier bags ensure security
|

Personal Banking

|

Business Banking

|

Electronic Banking
|

First Westroads Bank News
First Westroads Bank Welcomes Experienced Board Member
Chris J. Murphy, Chairman and CEO of First Westroads Bank, is pleased to announce that John E. Nahas has been reappointed to the Bank's Board of Directors. Nahas has been President of Corporate Management Consulting since March, 2004. Prior to that, he has more than 28 years of commercial banking experience including serving as President of US Bank from January 1997 to March 2004. John previously served on the First Westroads Bank Board of Directors from January 2005 through June of 2007. He left to join Mutual of Omaha in 2007 to assist in starting Mutual of Omaha Bank where he served as lead Director. Nahas earned a BSBA in Economics from Creighton University and an MBA in Banking and Finance from the University of Nebraska, Lincoln. He has been very active in our community, serving on the Boards of Travel & Transport, Briggs Industrial Supply, Creighton University, Children's Hospital, Children's Physicians, and the Strategic Air & Space Museum. First Westroads Bank is a locally owned and managed community bank focused on building and maintaining long-term relationships. Our professional, knowledgeable, and experienced bankers are committed to exceeding our customers' expectations.
First Westroads Bank Earns Bauer's Elite 5-Star Rating
BAUERFINANCIAL, Coral Gables, Florida, the Nation's Premier Bank Rating Firm, is proud to announce that First Westroads Bank, Omaha, Nebraska has secured its highest, 5-Star rating. (A five-star rating indicates the bank excels in areas of capital adequacy, profitability, asset quality and much more.) In fact, First Westroads Bank has earned and maintained Bauer's Recommended Rating (5-Stars or 4-Stars) for the last 102 consecutive quarters. Read More here...
A Special Announcement
We're celebrating 50 years in the Omaha Community! In grateful appreciation of all the support from our loyal customers, bank owners, Chris and Betsy Murphy, are pleased to announce that Murphy Vision Funds is making the lead investment in Omaha's Startup Collaborative. Our $300,000 investment will be matched by Invest Nebraska for a total $600,000 that goes directly to local entrepreneurs. WATCH this video about the Startup Collaborative! and read more in the Omaha Chamber's Press Release.
Project PayBac® Partner school tours
On April 15th, First Westroads Bank had the pleasure to host over 75 first grade students to a tour of the bank. Among other things, they got to see cash & coin counters, the safe deposit box vault, and a brief presentation on how banks work. After cookies and juice, they each received a piggy bank to get started on their own savings journey.
A Bank Customer's Guide to Cybersecurity
We encourage you to take a few moments to read this special edition of the FDIC Consumer News. Inside, you will learn what you can do and what banks and regulators are doing to help prevent online fraud and theft. Click Here to read...
Welcome to FirstWestroads.Bank
As one of the first banks in the country to move our web address to the .BANK domain, we are taking an important step in the security of our internet platform. .BANK is a new domain developed by and for the global banking community. A .BANK domain signifies that an organization has been verified as legitimate and is committed to implementing security requirements that surpass existing standards. More information on the new .BANK domain.
With you on the journey
You've always known us as knowledgeable and experienced bankers. You've always known us as local and responsive bankers. You've always known us as First Westroads Bank. Our new brand reflects what you've known all along.
Protecting Your Account Following a Data Breach
Whether you have a business credit card, personal debit or credit card, when you hear about a data breach in the news, it's good to know that you are protected. It's wise to update your contact methods with your card provider to include email and text messages. Timely and regular reviews of your purchases can help you identify unauthorized activity. Click here, to learn more about how First Westroads Bank helps to protect you.
Banking for Tablets Mobile App Release
First Westroads Bank has released the Mobile Banking App to include additional tablet devices. Search First Westroads Bank from your device store or visit our Mobile Banking page for more details.
Online Security | How to protect yourself from being victimized
First Westroads Bank will NEVER ask for your personal information unsolicited. If you are asked for your personal information - being your name, social security number, address, date of birth, etc., know who's asking and how they will be using this information.
First Westroads Bank | Simple Banking
First Westroads Bank is a community bank in Omaha, NE. We offer all the banking services you have come to expect with the personal service of a local, Omaha, NE bank. With First Westroads Bank, you'll find a full range of services to meet your needs for personal banking, business banking, and online banking in Omaha, NE. If you are looking for a local bank in Omaha, NE for your personal banking needs, we offer all the services you expect. In addition, we offer a full range of business banking services to help you start or grow your business.